---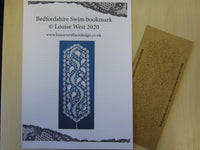 This pattern is designed to celebrate Swimathon 2020, a charity swim to raise money for Cancer Research and Marie Curie nurses. £5 of every pattern sale will be donated to this in sponsorship of Louise's efforts swimming 5K (200 lengths of a 25m pool) in March 2020. 

The pattern is inspired by the movement through water, the splashes, bubbles and the outlining lane ropes. It uses floral Bedfordshire techniques, including a twisted gimp down the centre of the cloth stitch in the centre, something seen regularly in Thomas Lester designs but rarely seen in more modern Bedfordshire designs today.
This product is for the pattern sheet and the ready to work pattern, with all the pattern preparation done for you.

"Ready to Work" is a pattern that is printed onto pricking card and the holes made in it by a computer controlled laser process, ensuring an accurate pattern. This process also saves time, meaning you can get on to the making of the lace much quicker.