---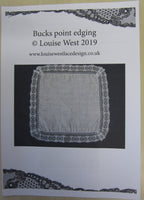 This is a geomentric Bucks Point edging, designed without a corner to enable the newcomer to Bucks, to be able to do a long edging and gather around a handkerchief in the traditional manner. It is a more straight forward pattern using traditional techniques and the same number of pairs throughout. 
Pattern takes 27 pairs plus 2 pairs of gimps and is worked in Finca 80 or equivalent and Cotton Perle 12 for the gimp
This is for the pattern sheet only, to make your own lace from.
Also available as a Ready to work pricking.