---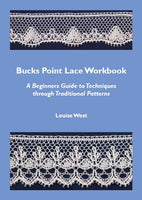 This book published and written by Louise West, covers the basic techniques for lacemakers new to Buckinghamshire Point Ground lace, more commonly shortened to Bucks Point lace.

It assumes knowledge of the preparation of the equipment, pattern and basic stitches of bobbin lace, but gives the absolute basics to get you started in this traditional English lace, through a series of traditional designs. 
The book contains 15 patterns with detailed instructions, and 3 additional patterns without instructions. It also provides space for your own notes and for samples made to be mounted to save for future reference. 
ISBN 978-0-9957370-1-3